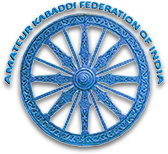 AMATEUR KABADDI FEDERATION OF INDIA
List of Of Office Bearers w.e.f 19.05.2013 to 18.05.2017
Name of the Post
Name(s) of Elected Candidate(s)
President
Dr. Mridul Bhadauria
Chairman
Mr. K.E. Prabhakar
Vice President
Mr. Bhubeneshwer Kalita
Vice President
Mr. M. Hanumanthe Gowda
Vice President
Mr. J.P. Agarwal
Vice President
Mr. Vijay Prakash
Vice President
Mr. Kishor Patil
General Secretary
Mr. Dinesh Patel
Treasurer
Mr. Gnaneshwar Mudiraj Kasani
Joint Secretary
Mr. Niranjan Singh
Joint Secretary
Mr. Kuldeep Gupta
Joint Secretary
Mr. Kumar Vijay
Joint Secretary
Mr. S.S. Lakkad
Joint Secretary
Mr. A. Saffiulla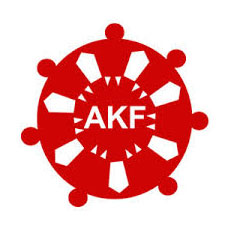 ASIAN KABADDI FEDERATION
The Asian Kabaddi Federation [AKF] was formed in the year 1978. The 1st Asian Kabaddi Championship was held in the year 1980 and was included as a demonstration game in the 9th Asian Games, New Delhi in the year 1982. The game was included in the South Asian Federation (SAF) games from the year 1984 at Dacca, Bangladesh. Kabaddi was included as a regular sports discipline in the 11th Beijing Asian Games 1990, Hiroshima 1994, Bangkok 1998, Busan 2002 & at Doha 2006.
INTERNATIONAL KABADDI FEDERATION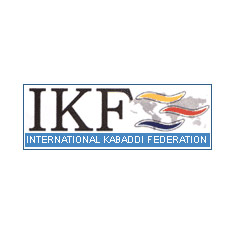 The International Kabaddi Federation [IKF] was formed during the 1st World Cup in Kabaddi 2004 at Mumbai in India. The First Asian Women Championship was held at Hyderabad in 2005 and Women Kabaddi was included for the first time in the South Asian Games held in Colombo, Sri Lanka in 2006. The second World Cup for men was held in India at Panvel in 2007. The first Women World cup was conducted at Patna, Bihar, India in 2012.
PRESIDENT

MR. JANARDHAN SINGH GEHLOT

INDIA

VICE PRESIDENTS

1. MR. CHOUDHARY MOHD ASGAR

2. MR. MD. ABBASI

3. MR. M.T. FERNANDO

4. MR. VEERAVAT PHUMMAPHUTI

5. MR. HUANG CHUNG JEN

PAKISTAN

IRAN

SRILANKA

THAILAND

CHINESE TAIPEI

SECRETARY GENERAL

MR. YOON YEONG HAK

SOUTH KOREA

JOINT SECRETARIES

1. MR. PARMINDER SHARMA

2. MR. FARDIN AHMED ZIAYEE

3. MR. MANIAM MANIKKAM

4. MR. IDA BAGUS ANTARA

ITALY

AFGANISTHAN

MALAYSIA

INDONESIA

TREASURER

MR. ASHOK DAS

ENGLAND

C.E.O

MR. DEORAJ CHATURVEDI

INDIA

TECHNICAL DIRECTOR

MR. E. PRASAD RAO

INDIA
Mr. J.S.Gehlot, President IKF
2, "Aakanksha",
Ajmer Road,
Jaipur – 302 021,
India
Fax No. +91-141-2351247, Tel. No. +91-141-2351983 & 2352135
Email: indiakabaddi@yahoo.com
Mr. Yeong Hak Yoon, Secretary General, IKF
8401 Sports Science College, D
ong-a University, Hadan-Dong, Saha-ku,
Busan 604-714,
Republic Of Korea,
Fax No. +82-51-207-0900,
Tel No. +82-51-207-0900
Email: ohakyoon@yahoo.co.kr
Member Countries
S.No.

COUNTRY

ABBR
1
Afghanistan

AFG

2
Australia*

AUS

3
Austria*
AUT
4
Bangladesh

BAN

5

Bhutan

BHU

6
Cambodia

CAM

7
Canada

CAN

8
Chinese Taipei

TPE

9
France*
FRA
10
Germany*

GER

11
England

ENG

12
India

IND

13

Indonesia

INDO

14
I.R. Of Iran

IRI

15
Italy
ITA
16

Japan

JPN

17
Kyrgyzstan

KYG

18
Malaysia

MAS

19
Maldives
MDV
20
Nepal

NEP

21
Norway*

NOR

22
Oman

OMA

23
Pakistan

PAK

24
Republic Of Korea

KOR

25
Spain*

ESP

26
Sri Lanka

SRI

27
Sweden*

SWE

28
Thailand

THA

29
Turkmenistan

TUR

30
U.S.A*
USA
31
West Indies
WI